Projects
During 2013 the Foundation was priviledged to support the Modbury Hospital with the supply of a Bladder Scanner for the Critical Care Unit. The easy access of this equipment will improve the timeliness of intervention and treatment for patients in CCU.
Our thanks are extended to the Modbury Singers who raised the funds for this project by donations received whenever they were booked for a show. 2013 saw this dedicated group of volunteers perform at over 100 venues.
Our photo below shows Margaret McBride, Raelene and Kevin Ramsay (from the Modbury Singers) with Debbie Rainsford, Clinical Services Coordinator - CCU.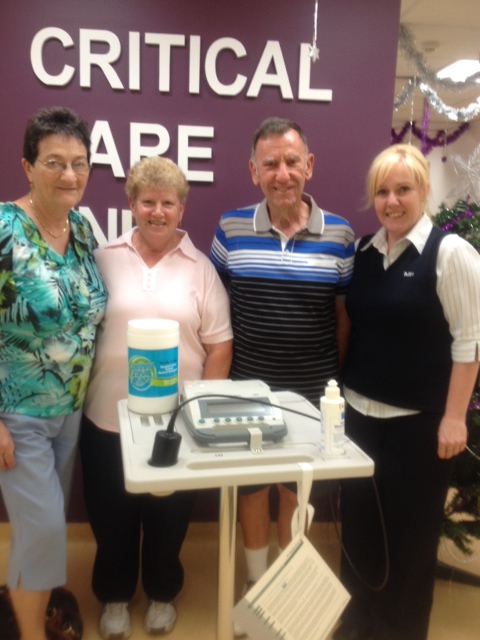 In late 2013 the Foundation assisted the Emergency Department with an upgrade to a courtyard area adjacent to their offices. The area is now a pleasant place for staff to meet or have lunch.
The photo below shows President of the Modbury Hospital Foundation, Michael Durrant receiving an acknowledgement certificate from the Director of Emergency Medicine, Dr Jason Bament.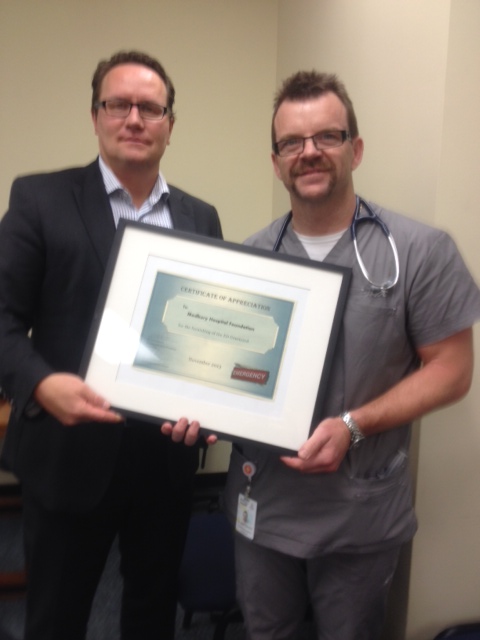 To find out how you can assist the Foundation with donations or goods in kind support please contact the Fundraising team on 8161 2626 or email: info@mhfoundation.org.au.
The Foundation welcomes the volunteer support of local business and national corporations to assist with its projects.